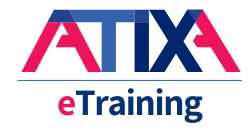 What is eTraining?
eTraining is ATIXA's new, self-directed mode of learning.
We understand that your time is valuable – and we value that. eTraining puts you in command of how and when you learn, working with your schedule to provide the same highly engaging instruction from top Title IX practitioners that you have come to rely on from our virtual and in-person trainings. eTraining's modular design allows you to customize your training experience to fit your needs.
The Advantages of eTraining
eTraining was developed with you in mind – we're listening to our community and diversifying our offerings to deliver the flexibility that you want.
Self-Directed
eTraining is entirely self-directed to ensure that you get the most out of your interactive experience.
Customization
Design a training experience that delivers what you need with eTraining's budget-friendly modules and engage with the course at your convenience. eTraining features self-checks and interaction to keep you engaged. eTraining's specialized modules focus on core content specifically for your role and experience level, offering direct access to the essential knowledge you need with practical applications for an individualized, interactive training experience.
Benefit from the same quality all our forms of training are known for, with the added freedom to engage at your own pace.
Specialized Content
We understand that the circumstances and challenges Title IX practitioners face are unique to distinct settings within the field. That's why eTraining offers diverse ranges of content: we are proud to provide courses dedicated to the K-12 landscape, with courses specifically for higher education practitioners in development.
Growing Roster of Courses
Additional eTraining certifications and courses are in development. Begin your self-directed learning experience with our currently available modules!
K-12 Investigator: Foundations
K-12 Coordinator: Foundations
Mandated Reporting Training for Higher Education Institutions (open source, in service to the field)
Included in Your Super Membership or K-12 Professional Development Package
ATIXA Super Members and our K-12 Professional Development Package holders receive certification courses as part of their membership and package. As our newest offering, you can now select eTraining.
If you already have an eTraining account, you can log in by clicking here.
Additional Information
eTraining FAQs can be viewed here.
eTraining Terms and Conditions can be viewed here.
ATIXA members receive an automatic discount on all eTrainings. Be sure to log into your account to see your special pricing.
Group discounts start at two or more registrations for the same training. To receive a group discount quote, please email etraining@atixa.org with the name of the course you would like to register for and the number of attendees that need to be registered. The ATIXA team will respond with a quote for your group.